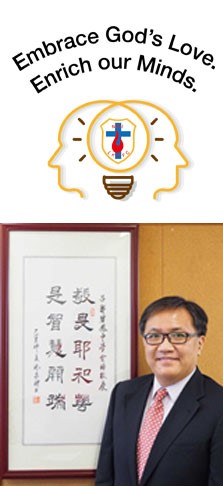 Good morning teachers and students,
This is the beginning of the school term and we thank God for giving us the opportunity to learn in LKPFC together.  Learning is a constructive and formative process.  One of the aims of learning is to acquire wisdom.  LKPFC is a Christian EMI school and we care about acquiring wisdom too.  What is Wisdom and how to acquire it?  In the Holy Bible, Old Testament, Proverbs 9:10, it states "the fear of the Lord is the Beginning of Wisdom…".  The Christian tradition cares about wisdom and we believe that wisdom is a blessing from Jesus Christ.  The first step we have to do is to follow Jesus teaching. 
What is Jesus teaching? The Holy Bible, Matthew 22:37-39 states Jesus teaching: 'Love the Lord your God with all your heart and with all your soul and with all your mind.'  This is the first and greatest commandment. And the second is like it: 'Love your neighbours as yourself.'  Remember students, Love is the core element in our life.  Love your God and your neighbors. This also echoes with our school new Major concerns.
We have the new Major Concerns in the coming three years. They are :
Major Concern 1:
To develop students' skills for lifelong and self-directed learning, as well as to foster their whole-person development

Major Concern 2: 
To foster Christian belief and growth mindset in students, to broaden their horizons in life-planning, leadership and global view; and to strengthen their capability in connecting with oneself, others and the society